Crane Tree Removal
---
Tree removal can be very dangerous if not handled by a trained professional. At Expert Tree Removal LLC we have over 30 years of experience in the tree cutting business.
We specialize in Tree Removal by Crane. Using our crane to lift trees out makes difficult removals easy.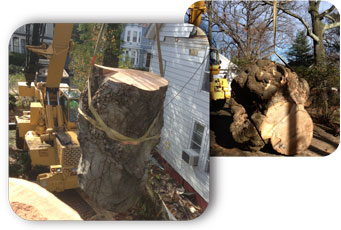 Here are the advantages to using our crane:
No damage to your house or landscape: No matter how close your tree is we can gently lift it up and away
Reasonable priced: Often times cheaper than conventional tree removal. If several trees, much cheaper!
Crane is a great tool but of course we climb and cut, like everyone else, if cheaper than using the crane
The crane eliminates falling limbs and chunks.
Can safely reach most backyard trees from the street or driveway
Zero damage. Why destroy years of landscape work. No falling pieces and no foot traffic hauling debris
Call or email us so that we can give you a free quote on your next tree cutting job.